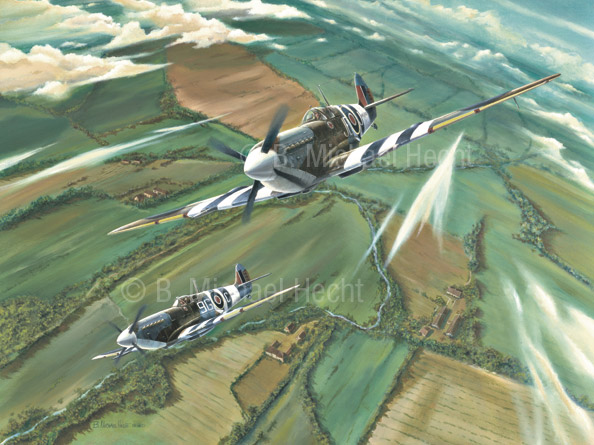 'Breakout at Normandy'
June 6, 1944-British Spitfire MK IXs of the 144th Canadian Wing, flown by Wing Commander Johnnie Johnson and Flying Officer Danforth Browne provided air cover for the Normandy Landings and participated in the eventual breakout into France, attacking targets of opportunity further inland. Wing Commander Johnson went on to finish the war with the RAF and accumulated 38 aerial victories and a promotion to Air-Vice Marshal.
30″ x 40″, Original Oil on canvas, framed.
Available for purchase.
Limited Edition Prints-500 Signed and Numbered
30 Artist Proofs
Each Print is countersigned by artist and the late RAF Ace, Air Vice-Marshal Johnnie Johnson
Print Image Size 17″ x 22 3/4″- Overall Print Size 22″ x 28″
Printed on 80# Archival Paper
Certificate of Authenticity
Prints $55 Artist Proofs $75, Available for purchase.
Tags: Johnnie Johnson, Danforth Brown, Spitfire, RAF, Wing Commander, Ace, Normandy Invasion, D-Day, June 6, 1944, aviation art.